HANOI – BAI DINH PAGODA – TRANG AN ECO TOURISM
(Group full day tour)
Morning, we pick you up at the hotel in Ha Noi old quarter then depart for Ninh Binh province. On the half way stop for short break about 20 minutes. Arrive in Buddha Prayer place in Bai Dinh Pagoda, the biggest pagoda in Vietnam with 500 La Han statues, biggest bronze Buddha statue in Vietnam with 10 meters in height, 100 tons in weight. Have lunch in local restaurant with some local special dishes such as Goat meat with elderberry, pork storage vessel.
Afternoon, depart to visit Trang An eco-tourism, take boat trip to visit cave complex: Sang Cave, Toi Cave, Ba Giot Cave, Nau Ruou in mystery and wildness, see scenery of mountain and rivers Ha Long on land of Ninh Binh. Then we get on the car for returning to Hanoi. Arrival at the hotel in Ha Noi old quarter around 19.00. Tour ends!
Trip Included:
- Pick-up and transfer by A/C modern bus.
- A bottle of water/person on the bus.
- English speaking tour guide
- All entrance fees to sites indicated in itinerary.
- Meals: Have lunch buffet in local restaurant
Trip Excluded:
- Beverages, tax and personal expenses
- Others not mentioned above
- Tip for ferryman tour guide and driver
- Electric car transfer to Bai Dinh pagoda (3$/pax ~ 60.000đ)
Children Policy:
- Under 1 m will be free of charge and must share seat with parents.
- Above 1 m will be charged as adult (100% tour price)
10 Things to Do in Ninh Binh on Your First Visit
Forget Hanoi or Ho Chi Minh City! Ninh Binh in Northern Vietnam will leave you in awe with its stunning natural scenery, quaint villages, and historical buildings!
Stephanie LauwJul 11th, 2018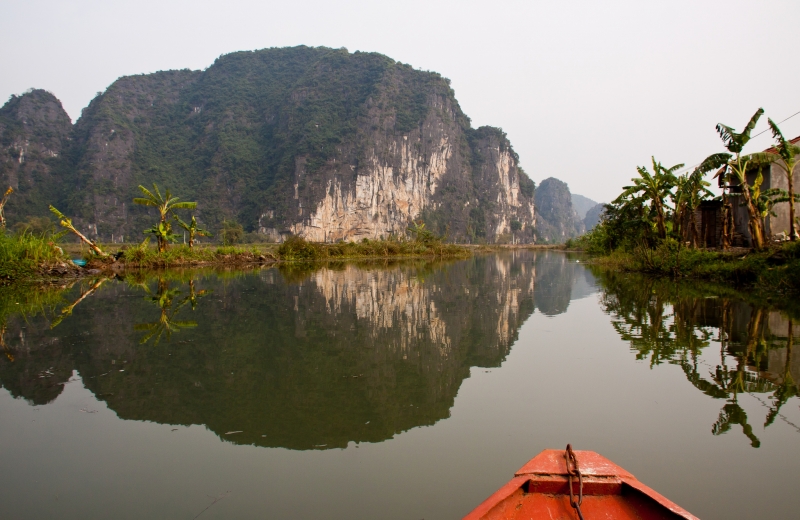 Image credit: Chris Goldberg
Just 100km south of the capital city of Hanoi is the lesser-known gem of Northern Vietnam. Ninh Binh is a quaint city famous for its picturesque natural scenery and beautiful historical and religious sites. Also known as the "Halong Bay on Land", it offers similar landscape views, but with the benefit of being much less touristy and untouched. Categorised into the four main areas, Ninh Binh is full of charming experiences. Here are 10 amazing things to do when you visit Ninh Binh:
Trang An
1. Trang An Grottoes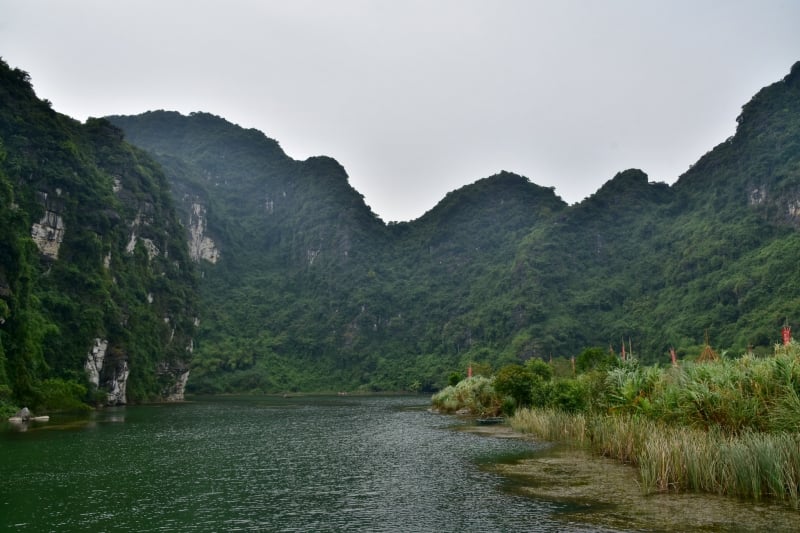 Image credit: Richard Mortel
One of the most popular places in Ninh Binh, the Trang An Grottoes is a stunning complex of valleys and crosswater caverns. Take a scenic boat ride through the river networks and you'll be greeted with amazing sights of the extraordinary natural landforms, hidden caves, and beautiful riverside temples.
2. Bai Dinh Temple Spiritual and Cultural Complex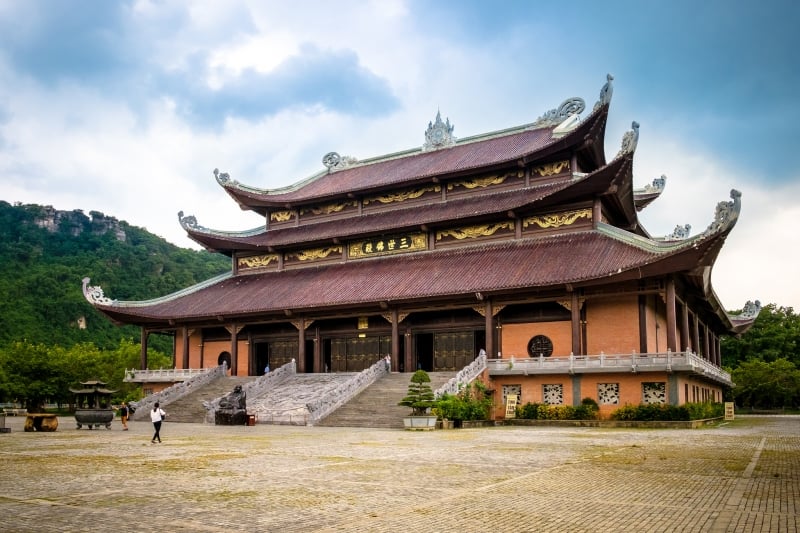 Image credit: Brian's Dallas Habitat for Humanity
For monster film buffs, this temple might look a tad familiar – it was recently featured in Jordan Vogt-Roberts' 2017 reboot of the King Kong franchise: Skull Island! The Bai Dinh Temple compound is the largest complex of temples in Vietnam. It is a major destination for religious pilgrimages and an even more popular attraction for visiting tourists who are interested in spirituality and Buddhist art.
3. Hoa Lu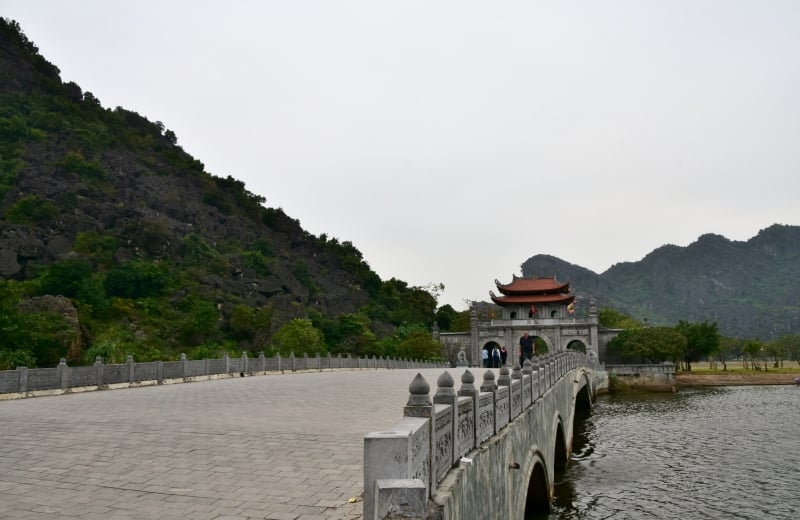 Image credit: Richard Mortel
Nestled between two towering limestone mountains is the ancient capital of Hoa Lu. The city used to be the capital of Vietnam during the 10th and 11th century. Today, Hoa Lu is a cultural centre filled with ancient pagodas and citadels. Most of these were built in honour of the royals of the Dinh dynasty. Depicted here is the iconic archway on the bridge leading into the city, a must-see when touring Ninh Binh!
Tam Coc
4. Mua Cave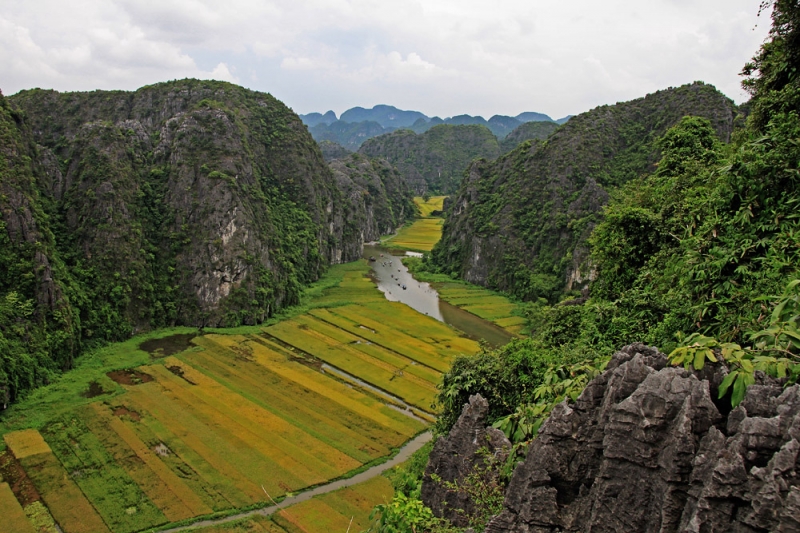 Image credit: Nestor Lacle
The highlight of the Mua Caves would be the panoramic view of the mountains and rice fields from the very peak of the area. It's just a short 15-minute trek up 500 steps, so it's definitely one of the most worthwhile activities to spend time on in the area.
5. Tam Coc Boat Ride
Image credit: Tom Caswell
Take a break from the bustling city life and hop on for a boat trip down Tam Coc River. As you cruise along the river, you'll be rewarded with awe-inspiring natural landscape and a chance to see the rural religious sites hidden away from view. The journey is the perfect respite from busy city life and offers you the chance to truly appreciate the natural beauty of Ninh Binh.
6. Bich Dong Pagoda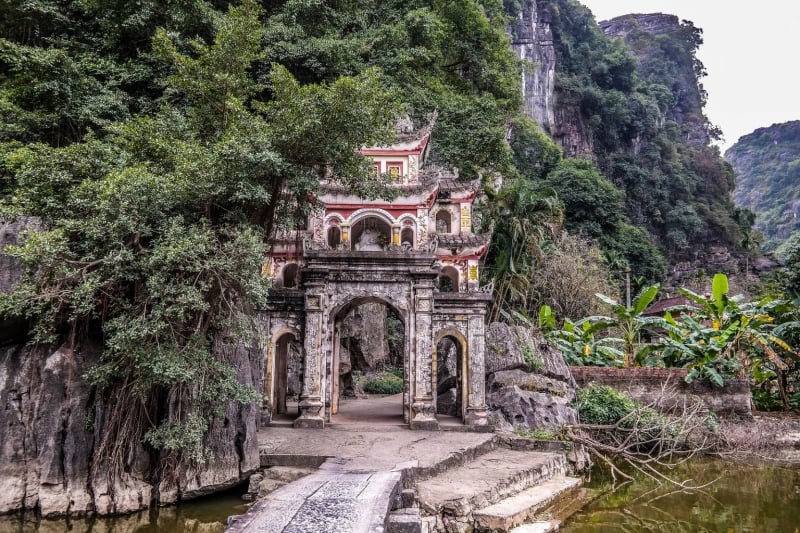 Image credit: Jean-Paul Navarro
Bich Dong Pagoda is a cluster of majestic mountain cave temples elegantly residing around the area. These ancient shrines and historic pagodas are scattered in intervals along the hillside, some dating back to as early as the 15th century. You'll have to walk and climb to get to each monument, but the journey en route treats you to lavish views of the valley and luscious greenery.
Van Long
7. Van Long Nature Reserve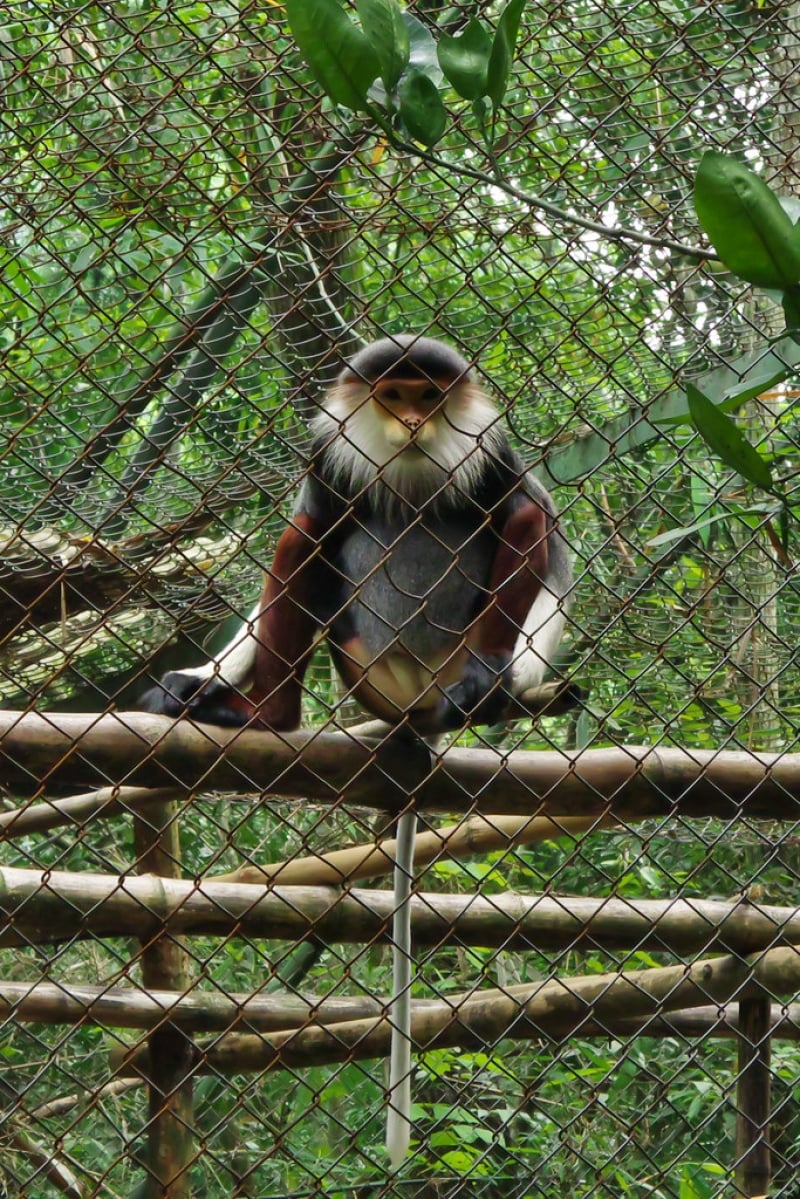 Image credit: Gavin White
The Van Long Nature Reserve is the biggest wetland reserve in Northern Vietnam. With pinnacles of limestone bedrocks and paddy fields that reach the horizon, it's certainly a memorable place to visit. The nature reserve is also home to many species of primates, including the endangered Delacour's Langur. Rehabilitation of animals take place here and they are released back into the wild after treatment.
8. Kenh Ga Floating Village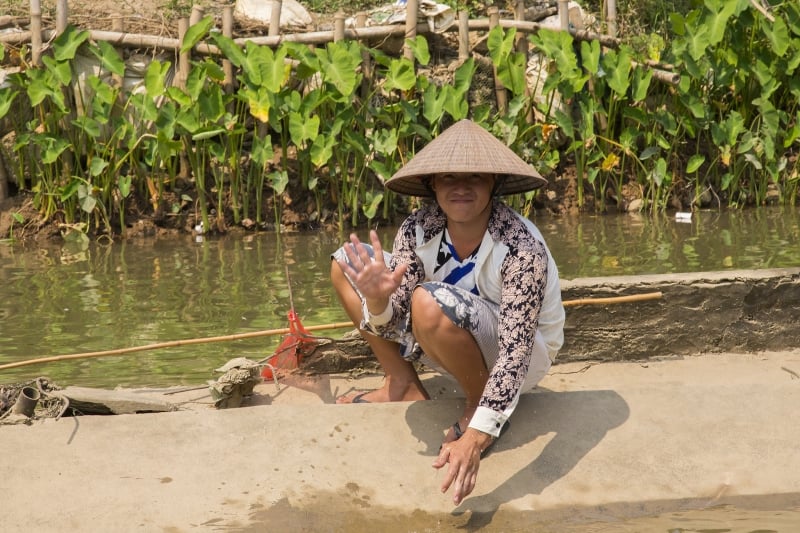 Image credit: gmacfadyen
Ever wonder what's it like to live as a local of Ninh Binh? Visit the Kenh Ga wetlands for a first-hand perspective of the local life of the village people! Also known as the Chicken Canal, you may even be able to catch some wild chickens running around the area as you experience the simple yet charming village life.
Cuc Phuong
9. Cuc Phuong National Park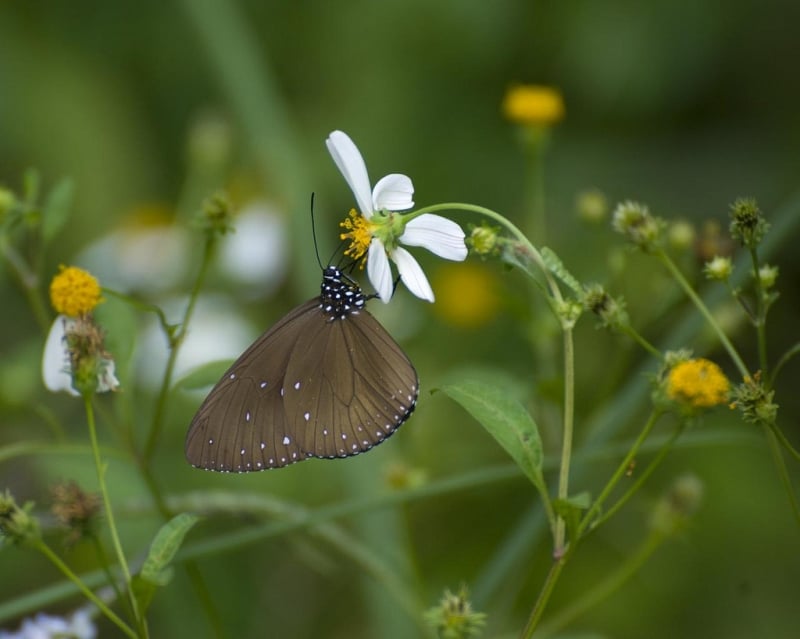 Image credit: Jeff B
Cuc Phuong National Park is one of the key sites of biodiversity in Vietnam. As the country's largest nature reserve, the preserved rainforest is home to over 300 species of rare birds and 2000 species of plants well-protected to maintain the untouched wildlife of Ninh Binh. You can even stay a night or two on the park grounds with local Muong people, an ethnic group that inhabits the mountainous regions of Northern Vietnam.
10. Phat Diem Cathedral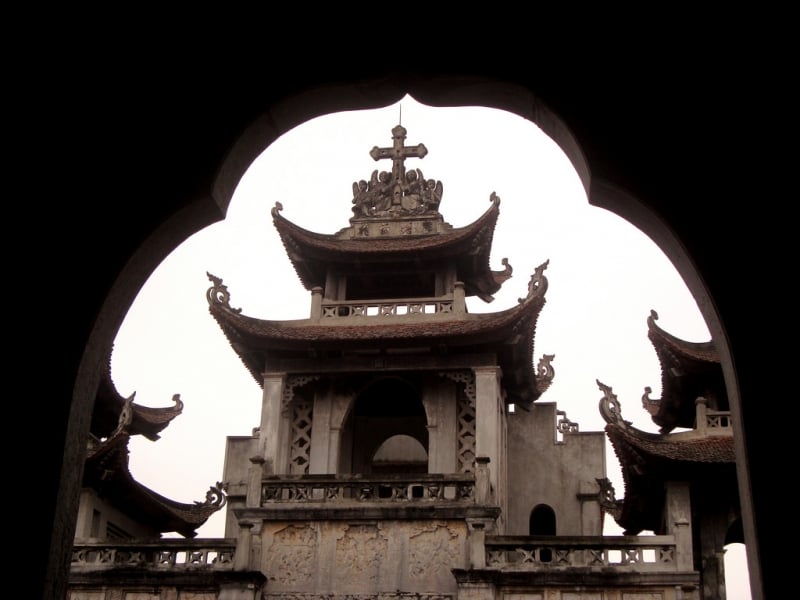 Image credit: Gavin White
The architecture of this Catholic church is a delicate fusion of Western motifs (reminiscent of Gothic architecture from mid-12th century Europe) and local traditional aesthetics. The unique blend of east and west certainly offers a fascinating window into the religious history and architectural heritage of Ninh Binh.
With all these interesting places to visit, why not take a trip to Ninh Binh and experience the rich culture and natural scenery yourself? Trust me, you won't regret it!
Source: https://www.tripzilla.com/things-to-do-ninh-binh-first-visit/81448